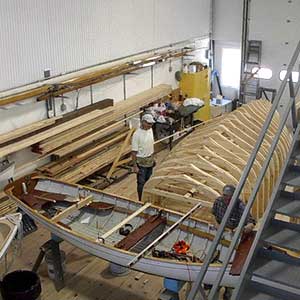 Our shop has been designed from the beginning for its intended purpose – boatbuilding – with the benefit of our combined experience of 50+ years in various other shops (and some spaces that were not quite shops) as our guide.
Upstairs is the office, drafting table, mold loft and 48 foot spar bench. Beneath the loft is the main workbench and machinery space, which is adjoined by the building bay with overhead doors at each end.
The shop is well equipped, well lit, insulated and comfortable year-round, and is laid out for maximum efficiency in the building process.